RWC 2023 | South Africa thanked, Webb Ellis Trophy Tour explained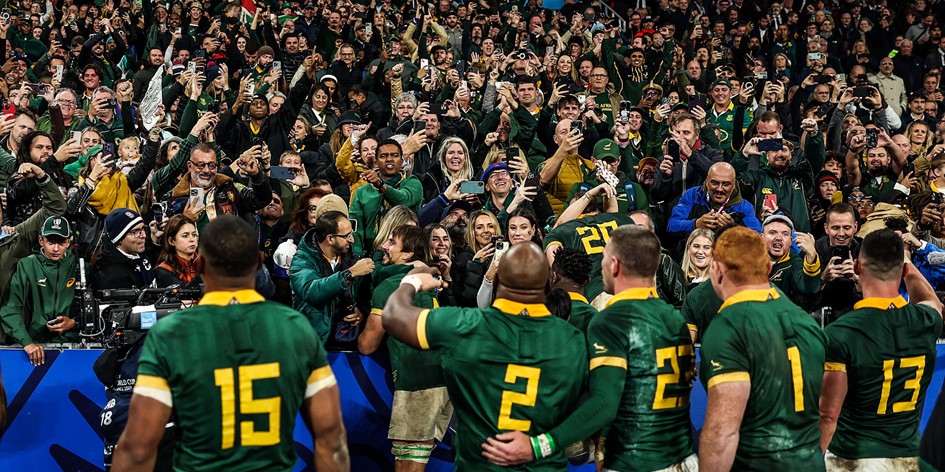 Mr. Mark Alexander, President of the South African Rugby Union, passed on the Springboks' heartfelt gratitude to all South Africans for the overwhelming support and passion showered upon the team throughout their triumphant Rugby World Cup journey.
Each of the Springboks' thrilling one-point victories in the three playoff matches resonated with millions of South Africans, as social media was packed with celebratory videos, culminating in Saturday's 12-11 win over New Zealand.
Mr. Alexander said: "The Springboks are on their way back to South Africa, but on their behalf and on behalf of the entire South African rugby community, I want to express our profound gratitude and humility in the face of the immense support the team has received.
"The TikToks, YouTube videos, and Facebook posts of fans reacting to the Bok victories played a significant role in motivating the team to give their all as the clock ticked down to the final whistle on Saturday night."
A four-day trophy tour has been meticulously planned to convey the team's appreciation and proudly showcase the trophy as it embarks on another four-year journey in South Africa.
Mr. Alexander highlighted that the tour's purpose was to reach as many people as possible within the limited timeframe before the squad disperses. The five largest population centres in the country—Cape Town, Durban, Johannesburg, Soweto, and Pretoria—have been given priority to provide the maximum number of people with the opportunity to welcome the team.
Furthermore, the significance of the Eastern Cape in the history, development, and future of black rugby was acknowledged, leading to a visit to Buffalo City on a non-working day to enable individuals from the region to be part of the celebration.
Regarding the choice of Buffalo City over Nelson Mandela Bay, Mr. Alexander noted that another significant Springbok event is planned for the metropole in 2024, although specific details are yet to be confirmed.
Mr. Alexander said: "The players' club commitments necessitate their swift return or immediate rehabilitation after 21 weeks of intense competition since the Castle Lager Rugby Championship began.
"Satellite tours to other population centres in the Free State, North West, Limpopo, Mpumalanga, and Northern Cape, among other places, are in the planning stages, with scheduling contingent on players' club commitments.
"While it was always challenging to visit every town and city due to time constraints, we are confident that our choices and ongoing planning will enable us to visit all major population centres in every province over time. With the Cup in our possession for another four years, there's ample opportunity for that."
"Thank you, South Africa," said Mr Alexander.
The Trophy Tour kicks off this Thursday in Johannesburg, Soweto, and Pretoria. More details will be issued on SA Rugby's digital channels in due course.
Source: SA Rugby