Wild Alert GTi Challenge off to Gqeberha
GTI CHALLENGE WILL THRILL AT ALDO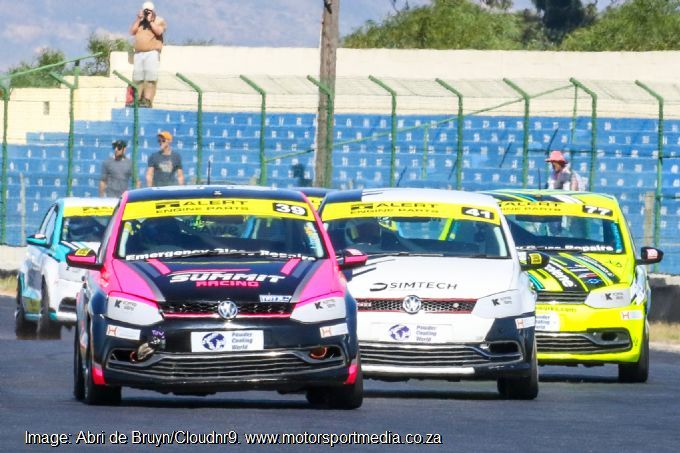 | | |
| --- | --- |
| What | Alert Engine Parts GTi Challenge Round 6 Preview |
| Where | Aldo Scribante, Gqeberha EP |
| When | Saturday 13 August 2022 |
| Community | South Africa National |
Wild Alert GTi Challenge off to Gqeberha
The Alert Engine Parts WP GTi Challenge takes a rare journey away from Killarney and Cape Town, when it heads to Gqeberha for an away race as part of the Aldo Scribante racetrack's 13 August regional races. A jewel in Cape Town's racing crown, EP race fans can look forward to the regular seismic Challenge action on unfamiliar ground for once.
The Alert GTi Challenge races in three power-to-weight classes A, B and C on Dunlop Direzza 15" tyres. National Polo Cup rivals, Class A man Jurie Swart's Summit Racing Polo 6R and Class B leader Tate Bishop Angri Jetta 2 CLI, are fighting it out with Class C leader Chase Herholdt's Unlimited Auto Golf 1 GTi for overall Challenge championship honours.
Swart's main Class A title rivals, Marco Busi's Automan Polo 6R and Colin Meder in similar International Tube Technology machine should be his principal opposition. Others to keep an eye out for include Dillon Joubert's TAC Steel car, Summit racer Nathan Victor and Cooltouch driver Raaziegh Harris. Mario Roux has also chosen the away race to debut his new Automar Polo 6R.
Tate Bishop's Class B opposition includes Ian Kapp's Hydracor Polo 6R, reigning C champion Kyle Wiltshire's Summit Polo Classic and Grant Cloete's Upstream Golf 2, as well as the returning Zaki Hendricks' new yellow Wheel Worx Polo. Others to keep an eye out for there, include John-Henri Vaughan and Marc Thompson's Polo Classics, Byron Mitchell's Golf 1 and Wayne Field's Jetta.
The all-Golf 1 GTi Class B Brat Pack is always a brilliant spectacle. Chase Herholdt will have Alfie van Zyl back in action against him alongside Matthew Rowe's Veldt Reared car, Spice Mecca man Nur Abass and Sulaiman Effemdi's Panic Plumbing Golf. Also look out for brothers Ryan and Dylan van Eden, Ruan Uys and Tahier Khalpey among this lot.
The visiting Alert Engine Parts WP GTi Challenge will race alongside the regular Aldo Scribante regional Modified Saloon, Classic, Streetcar and Motorcycle classes on Saturday. Sounds like a great day at the races!
ENDS
Issued on behalf of Alert GTi Challenge