South Africa's MRF Tyres National Rally revival continues apace in Tzaneen
TZANEEN – A BIG WEEKEND FOR SA RALLYING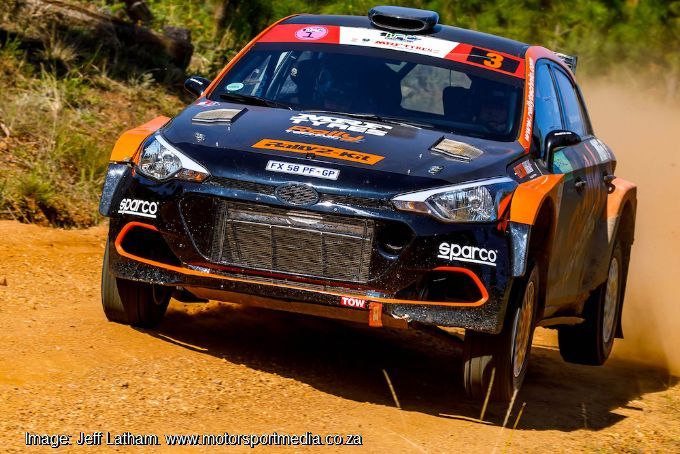 | | |
| --- | --- |
| What | NTT Tzaneen MRF SA Rally Preview |
| Where | Tzaneen, Limpopo Province |
| When | 12-13 August 2022 |
| Community | South Africa National |
New Cars, teams for comeback Tzaneen Rally
South Africa's MRF Tyres National Rally revival continues apace as Tzaneen returns to the Championship fold, along with some great developments on the competitive front over the weekend of 12-13 August .
Among the highlights, championship leaders Chris Coertze and Greg Godrich will switch to an all-new car, national GTC racer Mandla Mdkane makes his rally debut alongside Kes Naidoo, and super-fast duo Guy Botterill and Simon Vacy Lyle look to strike back with another double win on the Highveld.
The biggest news, beyond national rallying returning to Tzaneen for the first time in fourteen years, is Coertze and Godrich's step out of their faithful Hyundai i10 and into an all-new and R4 spec Rally Technic Mazda 2 1600 turbo. The duo leads the championship by a handy 37 points, so it's a strategically good time to take the move, considering the possible niggles of running a new car. Their progress will no doubt be carefully watched on the weekend.
That move has also opened the door to one of the two new top class NRC1 entries making their debut at Tzaneen. Exciting Würth Racing pair, JJ Potgieter and Tommy du Toit step up to the Rally Technic Hyundai vacated by the championship leaders. Judging by their recent NRC2 form, they will be another crew to watch. It's a similar story for rally rookie Mdkane and Naidoo, who take the plunge in the ex-Botteril-Lyle 2-litre turbo AWD Gazoo Racing Auris, while they wait for a new Starlet.
Botteril and Lyle will be looking to put a difficult last Algoa Rally round behind them and return to their winning ways at the previous Highveld round in Delmas. The Gazoo Toyota Starlet clearly has the pace to dominate once the team sorts its brittle habits. Their task is made no easier considering SA champion and Tzaneen local hero Theuns Joubert and Schalk van Heerden's Salom Labour Yaris recent rally winning pace. Or their home advantage.
Botterill and Lyle also have Johan Strauss and Elzaan Venter's Subaru ahead of them in third in the title race. Other NRC 1 contenders include Jonathan Simms and Hannes Pienaar's Toyota Tazz, Wilro Dippenaar and Carolyn Swan's PZN Toyota Auris, and an interesting one in Johan and Natasha Fourie's NR 1 Toyota Celica GT-Four.
Just as tight as the top class, the NRC2 title battle has raged all season long and will continue to entertain in Tzaneen. Benjamin Habig and Barry White's Just Tools VW Polo GTI will be the car to beat. Rest assured, Anton Raaths and Mari Ducasse's AR Panelbeaters Toyota Auris and Gerald Klopper and Johan Aucamp's Toyota Etios will want to do just that. As will Magriet Potgieter and Rikus Fourie's Ford Fiesta George Smallberger and Robbie Coetzee's Shield VW Polo. It remains to be seen what becomes of the vacated Potgieter du Toit Fiesta.
Anrico Opperman and Tommy Coetzee's Shield VW Polo will continue to fight it out with daughter and mum crew Andrea and Isabel Raaths' PTA Noord Toyota RunX for NRC4 honours. Also expect a few entertaining Gauteng regional rally entries the likes of Natie Booysen and Johan Smit's classic Ford Escort Mk.1, Stuart Stirling and Robin Knighton's quite alarming VW Syncro bus. As well as Edward and Lune Snyman, and Hennie Mostert and Willem Morgan Toyotas, among others.
The MRF Tyres SA Rally Championship's comeback NTT Tzaneen National Rally starts and runs around the picturesque Limpopo town on Friday 12 and Saturday 13 August 2022. For more information about starting points, service parks, spectator points, rally guides and more about the rally, visit facebook.com/tznrally, and www.sarally.co.za.
ENDS
Issued on behalf of MRF SA Rally