Pabar VW Challenge returns to action at Zwartkops' Ford & Friends raceday on Saturday 13 August
PABAR VW CHALLENGE: DOUBLE TROUBLE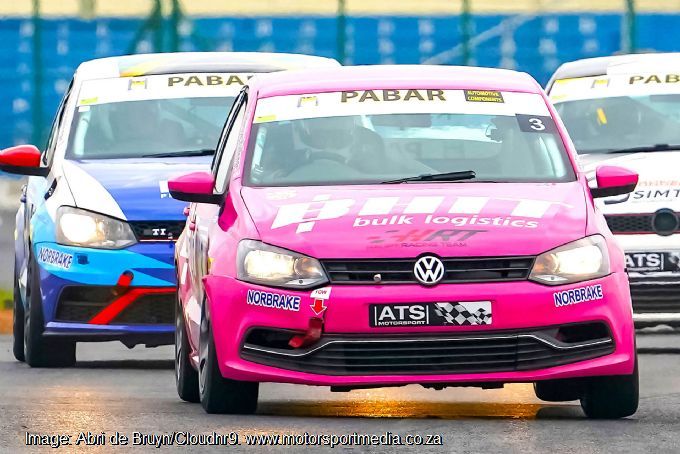 | | |
| --- | --- |
| What | PABAR VW Challenge Round 5 Preview |
| Where | Zwartkops Raceway, Pretoria |
| When | Saturday 13 August 2022 |
| Community | South Africa National |
Massive entry sees four Pabar races at Zwartkops
Gauteng's most competitive race series, the ever-spectacular Pabar VW Challenge returns to action at Zwartkops' Ford & Friends raceday on Saturday 13 August with the overall championship chase heating up between the three Class A, B and C title leaders. And with over 40 cars once again expected to enter, it's double trouble with the racing split into four equally spectacular heats. Two for Classes A and C, and two for Class B racing alone.
Class B rookie sensation Hannes Scheepers returns to the scene of his debut victory leading the overall title chase aboard his Dainfern Dental Polo. Class C leader Ian Walker sits second in the chase in his Cycles United Vivo, with top Class A lad Rory Atkinson's BHIT Industrial Transport Polo 6R next up.
Atkinson's main Class A competition will come from his championship rivals, Performance Masters man Wayne Masters and Stiaan Kriel's Design Hut Polo, which popped back into contention following a strong outing at the recent Cape Town away race. Others to watch include Waldie Meintjes' Allwagen car and CPS lad Bevin Masters, Derick Smalberger's Sabertek Polo and Blue Belt Pozidrive father and son Sam and Chris Dale. Stelio Nousias, Mr. Pabar Mike Barbaglia, Mydi Mfana, Dewald Theron and Gavin Ross are also all in the mix.
Moving on to the 20-plus car Class B, Scheepers' closest rivals are rapid lady drivers, Charisse van der Merwe's Hot 102.7 FM, and Elna Croeser's ATE Polos. Ever-improving JRT Polo lad Ethan Coetzee is another contender, as is Francois van Zyl's Jesus Saves car, Karshin Naidoo, RAM racer Bevan Williams, Jacques Hayes, Miguel Dias and FAST kid Anthony Pretorius. Also look out for Lindsay Clur, Stelio Nousias, Mo Karodia and Elio Muzzulini, Dean Ross, Mitch Coetzee, Robbie Cosani and Chris Davison in this epic standalone class .
Racing behind Class A, Class C gives fans two fine races to follow in one. Ian Walker has reigning overall and class champion Pierluigi Muzzulini's yellow FSS car and Mark Castell's Eezi Parts Vivo on his case, but don't ignore Dino Smit, Pabar driver Charl Andersen and ATE man Philip Croeser here either. The Dunlop-shod Pabar VW Challenge will race as part of a full Ford & Friends Regional Festival at Zwartkops on Saturday.
ENDS
Issued on behalf of PABAR VW Challenge